In my 15-plus years as an IT Financial Management practitioner and consultant, there's one universal truth that has stood out time after time: the business expects value from its technology investments. 
Crafting an effective IT value story has arguably never been more important. Businesses are increasingly reliant on technology, with Gartner projecting global IT spend to grow a remarkable 8.8% in 2024. At the same time, economic uncertainty has put a premium on securing additional budget and justifying existing costs.
The best IT leaders are laser-focused on how their department drives business outcomes. They recognize that IT is more than a services outfit charged with maintaining the networks, facilitating server upgrades, and completing projects on time. Rather, they position IT as a true partner that helps the business deliver on its strategic initiatives. 
It all sounds great in theory. Reality is messier because of assumptions that exist on both sides of the IT-business partnership. 
It's common for corporate decision-makers to assume that: 
IT costs too much

 

The business doesn't get enough value from its IT assets

 

IT doesn't understand the challenges of the business well enough

 
At the end of the day, correcting these assumptions and bridging the IT-business gap means getting both sides on the same page. And because money is the universal language of business, ITFM is perfectly situated as the translator of dollars spent to value received – and thus a key asset for every IT department. 
ITFM is no longer a part-time job. Establishing strong capabilities is vital in every organization with significant IT spend, because ITFM is a critical part of IT governance – alongside technology risk, IT strategy, and portfolio management. 
While the details are important, staying focused on the big picture will ensure your ITFM practice is set up for success. Here are four high-level areas to keep in mind: 
1. Identify which metrics and KPIs matter most to your business stakeholders and use them to create an executive-level view of IT financial health. You can't manage what you can't measure! Below, you can see the most sought-after technology investment outcomes from a revenue and profitability standpoint, according to Gartner. 
2. Define clear responsibilities for ITFM and an IT-business engagement model. This includes your service managers! They can offer key context around financial outliers (e.g., sudden overspend tied to cloud usage or a security remediation) and are a critical link between finance and the business.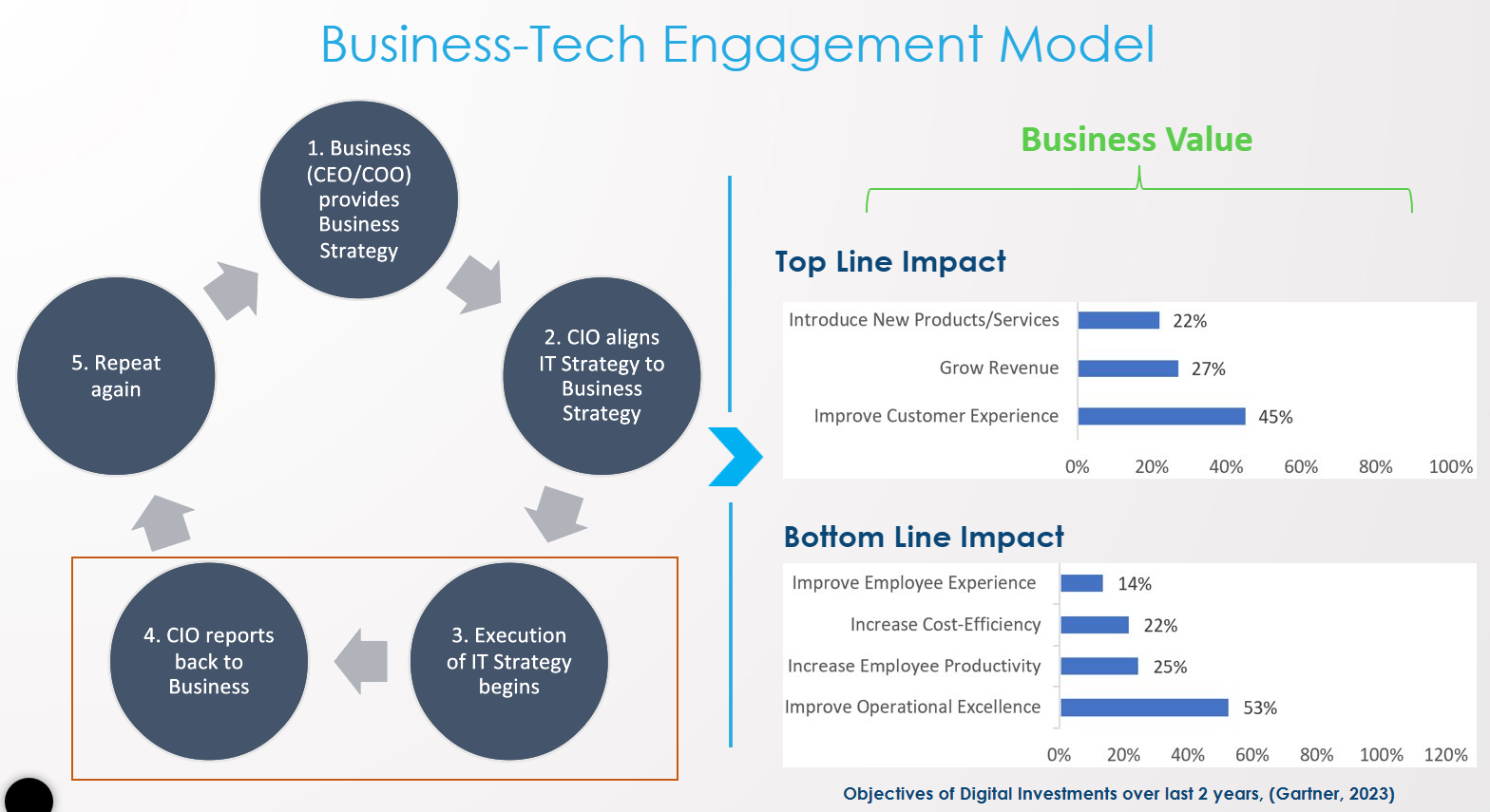 3. Ensure the business understands where IT is coming from by aligning technology spend to your business goals and capabilities.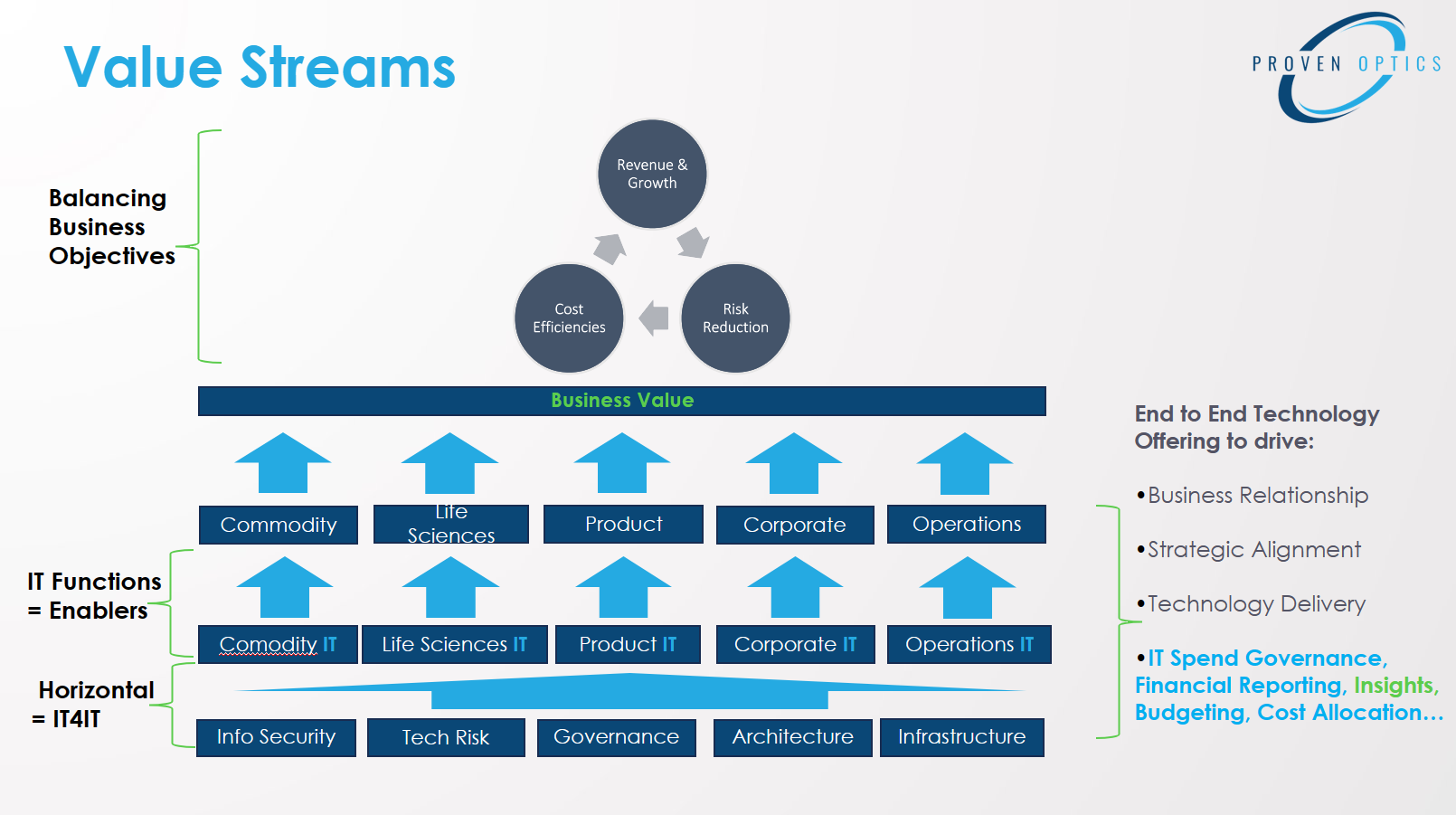 4. Establish the key processes that your ITFM practice will own and how you will report on the progress or success of those initiatives. For example, our clients at Campbell Soup Company used Proven Optics' Enterprise Budgeting application to improve forecasting accuracy and achieve their OpEx savings targets for FY23. (Check out the full story here) 
Ultimately, ITFM takes the operational data that already exists in your chosen IT platform (e.g., ServiceNow) and turns it into a strategic asset that fosters better cost transparency and decision-making. By aligning IT spend to your strategic goals, CIOs can have stronger, more credible value conversations with their C-suite peers – and tell the story in a language they can easily understand. 
As Proven Optics grows, we're committed to providing the IT community with actionable tips, best practices, and examples of how companies are approaching their ITFM challenges. Subscribe below to receive the latest ITFM content from our team!
Anna Curapina is the Global Field CTO at Proven Optics, with a background that includes in-house IT finance work, ITFM solution implementation, and consulting.