Bill Miller, Founder and Partner at Proven Optics, shares his universal truth about why ITFM/TBM is such an important capability and how people and businesses should approach decision making:
When it comes to IT Financial Management or Technology Business Management as it is sometimes called, I often get asked "What is the purpose of the practice?". The answer seems almost obvious on the surface, but when you try to define it clearly and concisely it becomes more elusive. I get asked by CIOs, CFOs, IT leaders, Service Owners, ITFM Practitioners, Sales Reps, Program Leads, you get the picture. So, what is the purpose of IT Financial Management or Technology Business Management? 
I ran the ITFM practice at Nationwide Insurance for the better part of a decade. As a practitioner, and now as the owner of a company that has delivered ITFM practice capabilities to dozens of organizations, I can honestly say the answer varies. Well, at least the very detailed elements of the answer vary. But I have discovered what I believe are some of the universal truths about why ITFM or TBM is such an important capability; one that truly defines an organization's maturity. I call that universal truth The Golden Triangle. 
The idea behind The Golden Triangle is simple enough. How do people and organizations make decisions? They collect data, analyze and group that data, and then consider various scenarios that trade off specific aspects of the outcome they are trying to achieve. The combination of trade offs that appear to provide the desired outcome with the least negative side effects becomes the decision. The Golden Triangle simplifies this overly wordy complex concept into a simple picture.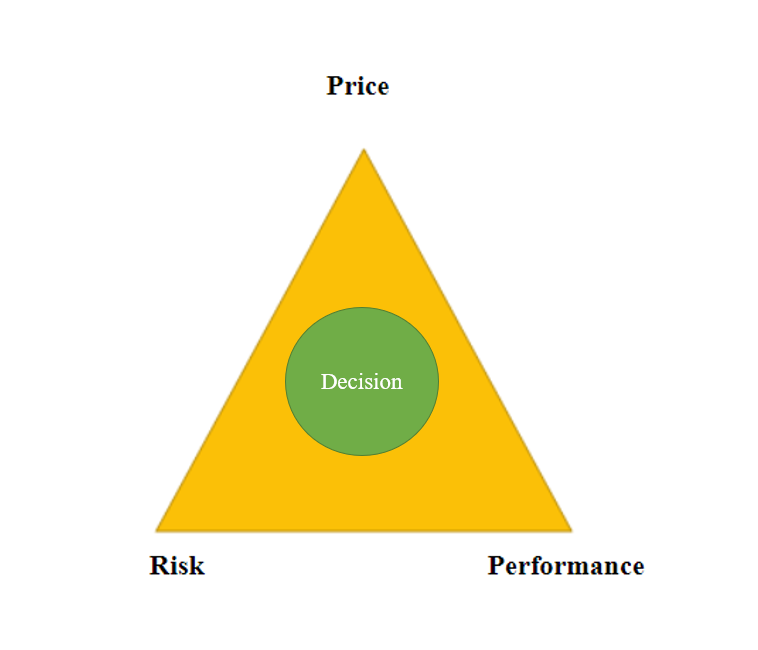 The idea of The Golden Triangle is that every decision must trade off between Price, Performance, and Risk. The relationship between Price/Performance and Risk/Performance are correlated, and Price/Risk are inverse. This means that if an organization wants to increase or improve performance, there is a corresponding increase in price. Similarly, if an organization wants to decrease risk, there is corresponding decrease in performance. The inverse relationship between Risk and Price indicates that a decrease in Risk comes with an increase in Price. The purpose of IT Financial Management and Technology Business Management is to bring clarity to the axes of the triangle. By providing a view into the impact of changes in price and how that impacts risk and performance, enables organizations to make better informed decisions. The biggest benefit of a well implemented ITFM/TBM capability is the ability to ensure conversations about the cost of IT include a conversation of the choice between risk impact, performance impact, or both. By driving a more complete conversation, organizations can make better informed decision and drive better results.