Nick Reade, Senior Implementation Consultant at Proven Optics, provides insight into our approach to the ServiceNow platform: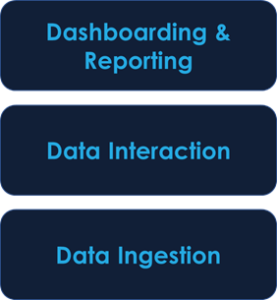 ServiceNow is a powerful enterprise platform with large suites of capabilities from Software Asset Management, Human Resources, to Financial Modeling. If you've never used the platform before it can seem a bit daunting to take on so many different capabilities all at once. Here at Proven Optics, we have an approach for any end user, IT or business, to understand the different layers of the model and how the toolset is functionality designed: Dashboarding & Reporting, Data Interaction, Data Ingestion.
The first layer is Dashboarding & Reporting. This layer is where most of the end users will be interacting, analyzing, and monitoring the data your ServiceNow product is creating & managing. The built in reporting capability allows for users to view either delivered reports with the product they turned on or their own custom dashboards that are tailored to how the team tracks & manages data for decision making. You can also use Performance Analytics indicators to show more complex and dynamic views than the standard reporting capability.
The second layer in our ServiceNow model is where the magic happens: Data Interaction. This is where end users modify, enrich, and capture updates to existing records. This is done through a multitude of ways like submission forms, workflows, and business rules. The flexibility of the user interface allows for ServiceNow developers to create a really personalized experience for their end users for managing form layouts, what fields are required for a submission, and user interface buttons without impacting system performance.
The last layer is where we can leverage one of the main features of ServiceNow: Data Ingestion. ServiceNow is more than just a technology platform, it's a data platform. Querying other data sets that sit in neighboring modules like Project Portfolio Management, Hardware Asset Management, or IT Service Management is incredibly easy and part of the delivered functionality. Gone are the days of having multiple disparate tables for one type of data. It also has a great capability of being able to load data that is not native to the platform, like the General Ledger or Procurement data, and have it be in a usable format for ServiceNow to leverage.
Below are some screenshots that showcase some of the features and views discussed above. What are your thoughts on our model and approach? Leave a comment below!